Online Blockchain Training: Distributed Ledger Technology for Business [CEST]
Early Bird tickets available now!
September 19, 2019 @ 9:00 am

-

September 21, 2019 @ 5:00 pm
Join this intensive online training from any location before you make a decision to build a proof of concept or an MVP for your corporate blockchain. You will learn the essentials of public and private blockchains, see how to design architecture and deploy a private blockchain network. You will also get familiar with Smart contracts applied in popular use cases and various business functions.
Please note that this online class will take place in Central European Summer Time (CEST Time Zone).
Who should attend
Technical and business executives:

Willing to learn the essentials of public and private blockchains
Making decisions on applying private blockchain solutions for business needs
Exploring how to design an architecture and to deploy a private blockchain network
Why enroll
Get under-the-hood of the Hyperledger Fabric architecture
Discover the consensus mechanism for the data stored in a distributed ledger
Explore functions of the blockchain components and network participants, as well as their interaction
Gain understanding of information flow (transaction processing) on blockchain
Study ins and outs of smart contracts and how they work on Hyperledger Fabric
Learn about Hyperledger Fabric solutions built for real business functions
Prerequisites and skills
Basic understanding of blockchain is nice to have, but not required
Laptop with Windows 10 or Mac OS X 10.x
TRAINING PROGRAM
Topic
Description
Introduction

Introduction to the blockchain technology.
Public and private permissioned blockchains.

WORKSHOP (lecture)

An overview of the Hyperledger Project and its frameworks for business: Indy, Iroha, and Sawtooth.
The architecture of Hyperledger Fabric. The network participants, components, transaction processing, and smart contracts functioning.
Real use cases overview: banking, finance, investments, syndicated loan, insurance, supply chain, and medical services.
Developed by Altoros: "A corporate bond issuing and trading platform", "(Re)insurance platform", "Supply Chain and Trade Finance".

How to start a corporate blockchain project. Practical advice.

Prototyping the distributed ledger(s) for each channel
Defining the sources of all types of data
Drawing the diagrams of all business processes: the Actors, and how they are supposed to interact with the ledger(s)
Describing algorithms of the smart contracts (the chaincode)

WORKSHOP (practice)

Use Hyperledger Composer to create the first blockchain application for your business case.
Hands-on practice with a demo networks (PoCs): "Supply chain for Automotive industry" and "OTC trading platform." Participants play the roles of the network nodes: create assets, process transactions, and generate reports.
Our trainers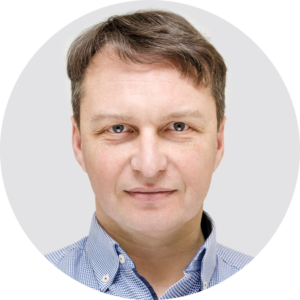 Blockchain Business Trainer
Vitaliy has engineering background in Electronics and holds MBA degree majoring in Finance from Manchester Business School. His career started in banking: trading in capital markets helped him accumulate knowledge of financial instruments and trading systems. Later on, Vitaliy worked as a Finance director focusing on FinTech solutions that gave profound knowledge of business processes in various industries: consumer goods production, telecommunications, retail and real estate development. With the emergence of blockchain technology, Vitaliy has realized new potential for enterprises: he has led several enterprise blockchain projects built on Hyperledger Fabric and now contributes as a blockchain trainer focusing on Hyperledger frameworks for business.
FAQs
Am I a good fit? Yes, if you have interest in blockchain, want to learn the essentials, or think about building a proof of concept or an MVP for your corporate blockchain.
Can I pay by invoice? Please send details at training@altoros.com: full name, number of tickets, your address or your company's address (if the invoice is paid by the company).
More Q&As at Frequently asked questions on our homepage.
If you have questions about the program or doubts whether this course is a good fit for you, please get in touch with us at training@altoros.com and we'll connect you with the trainer!
! Please note the training is contingent upon having 7 attendees. If we don't have enough tickets sold, we will cancel the training and refund your money one week prior to the training. Thanks for your understanding.
CERTIFICATE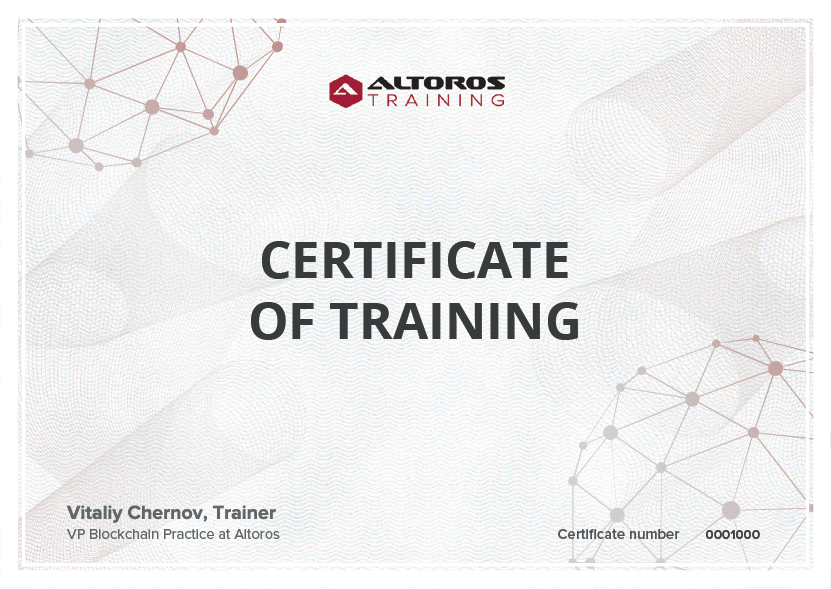 At the end of the course, all participants receive a certificate of attendance. This certificate includes the training duration and contents, and proves the attendee's knowledge of the emerging technology.
Need a private training for your team or have a question?
You can request private training for your team in your city and/or in your company, and we'll do our best to make it happen. Fill in the form below and we'll contact you once training is scheduled in your desired location.