Corporate Blockchain Training : Quick start with Hyperledger Fabric [New York]
Early Bird tickets available now!
October 23, 2019 @ 8:00 am

-

October 25, 2019 @ 5:00 pm
Nobody likes boring theory. With the emphasis on practical labs, this quick-start training will let you get hands dirty into enterprise blockchain architecture right at the training. Become fully armed to write a basic chaincode, administer the network, and create a POC on top of Hyperledger Fabric in just three days.
Who should attend
DevOps engineers deploying and operating distributed applications on the cloud-based infrastructure
Developers writing chaincode in Golang/Java/Node.js
Everyone who wants to start working on their own PoC
Everyone who wants to be prepared for the Certified Hyperledger Fabric Administrator exam
TRAINING PROGRAM
Day 1
Topic

Description

Hyperledger Fabric concept and fundamentals (Theory)

An architecture, a consensus mechanism, and a transaction flow
Fabric CA and Membership Service Provider (MSP)
Anatomy of configuration files and crypto material

Practical advice: How to start a corporate blockchain project

Prototyping the distributed ledger(s) for each channel
Defining the sources of all types of data
Drawing the diagrams of all business processes: the Actors, and how they are supposed to interact with the ledger(s)
Describing algorithms for the chaincode for each channel

Use Hyperledger Composer to create your first application (Hands-on)

Practice with a Demo-network (PoC)

Supply chain management: assets origin and transfer
OTC trading platform: peer-to-peer direct deals
Day 2
Topic

Description

Chaincode (Theory)

Fabric Chaincode anatomy overview; chaincode example
Chaincode events
Chaincode interaction between channels
How to start writing the chaincode: implementation of business logic of basic use cases

Application lifecycle management (Hands-on)

Setting up a Hyperledger Fabric network in a developer mode (on a single host)
Chaincode installation and instantiation
Endorsement policy configuration and change
Chaincode modification or upgrade

Use CLI commands to manage the application running on Fabric  (Hands-on)

Customizing the application
Reconfiguring the network: adding a new channel and chaincode
Adding new Organizations to the channel
Troubleshooting the network: analyzing peer logs

Key Chaincode patterns applied to popular use-cases  (Hands-on)

Chaincode implementation
Management of private data collections
Chaincode debug
Day 3
Topic

Description

Hyperledger Fabric configuration and deployment automation (Hands-on)

Designing an enterprise solution based on Fabric framework
Multi-host Fabric Starter with the Solo-Orderer and a Kafka cluster
REST API

Use Hyperledger Caliper to measure performance of your blockchain (Demo)

Advanced Fabric integration concepts (Demo)

Organizing permissioned access applying external identity management tools
Integration with an external (off-chain) file storage
Prerequisites
All attendees work on their laptops with:
Local installation of Ubuntu 16 (dual boot or virtual)

Docker, Docker-compose, Golang v1.8 or higher

An IDE with Golang support: Eclipse, VSCode, JetBrains
Basic knowledge of Golang, Java, or JavaScript (syntax, control flow)
Basic understanding of PKI and Docker
By the end of the course participants will:
Be fully armed to configure, set up, and manage the enterprise blockchain application life cycle
Be proficient in writing the chaincode to implement advanced business logic
Have an application with a universal configuration deployed on their working stations with a basic chaincode and the REST API
Able to architect modular structures integrating Fabric with external file storages
Our trainers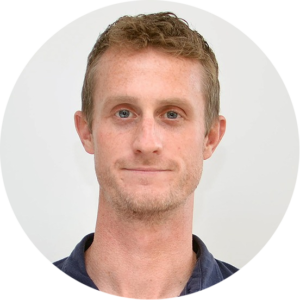 Blockchain Solutions Architect, Trainer
Greg joined Altoros as a supporting Trainer on Blockchain and Hyperledger Fabric. Previous to this position, Greg worked as Project Manager at Thomson Reuters where he was involved in systems integration and product management of an industry-first cloud-based tax analytics and reporting platform, advising implementations for Fortune 500 and Fortune 100 clients. Greg also previously worked in Senior Analyst and Senior Consultant positions at BDO LLP, and at Ernst & Young, LLP. Greg graduated from the Software Engineering Immersive at Fullstack Academy of Code in New York City, centered on full-stack JavaScript programming, including Node.js, Angular, React.js as well as SQL and NoSQL data architectures, and has developed distributed applications using the Ethereum framework. He holds a B.A. in International Economics from University of Virginia.
Venue is being confirmed. Stay tuned!
New York, USA
! Please note the training is contingent upon having 7 attendees.
CERTIFICATE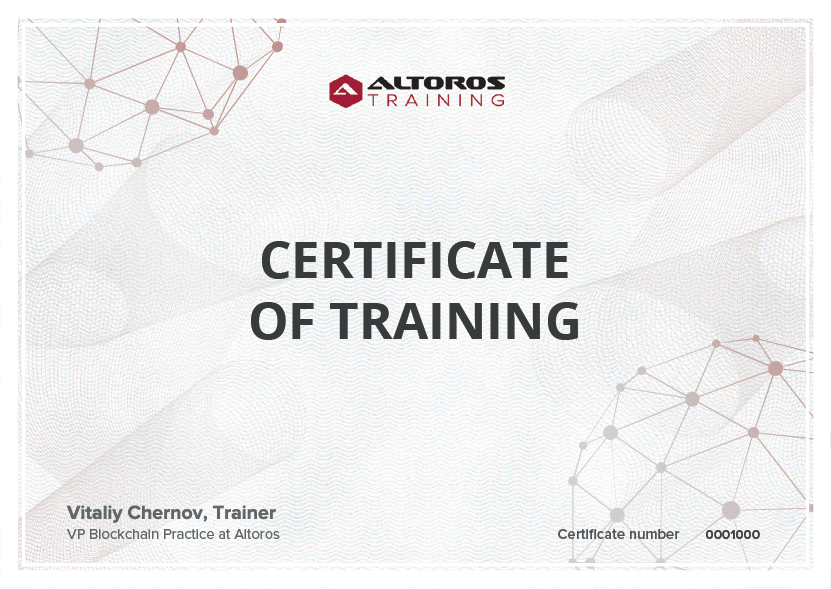 At the end of the course, all participants receive a certificate of attendance. This certificate includes the training duration and contents, and proves the attendee's knowledge of the emerging technology.
Need a private training for your team or have a question?
You can request private training for your team in your city and/or in your company, and we'll do our best to make it happen. Fill in the form below and we'll contact you once a training is scheduled in your desired location.