Bluemix Hands-on Training for Application Developers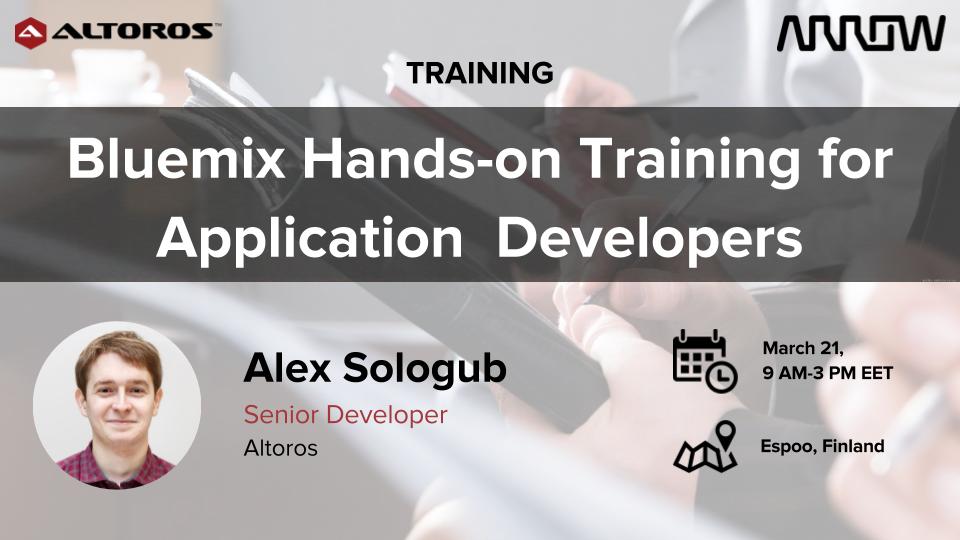 March 21, 2017 @ 9:00 am

-

3:00 pm

|

€650
This Bluemix training introduces Bluemix architecture and how to build cloud-native applications with practical hands-on exercises.
This training is intended for Application Developers and provides an in-depth knowledge required for developing and deploying Node.js applications to Bluemix. It includes an introduction to Cloud Foundry, IBM Bluemix, an overview of the best practices, tools, and services available for Node.js developers who will work on cloud-native applications. A large part of the course is dedicated to the hands-on exercises.
By the end of the training, participants will be able to:
Explain what the Bluemix PaaS is and how it works
Know Bluemix services and how to use them
Develop a cross-platform cloud-native Node.js application
Deploy to Bluemix
Trainer:
Alexander Sologub is a masterful full-stack software engineer and trainer with extensive background in both back-end logic and UI development for Web applications. His in-depth IaaS background makes Alexander a true virtuoso in all things cloud-native development. He is perfectly familiar with various platforms, such as IBM Bluemix and Cloud Foundry.
Alexander's expertise includes a number of programming languages e.g. Ruby, Node.js, database systems, the latest JavaScript frameworks, deployment techniques and technologies like machine learning and big data. He is an author of several blog posts and training unveiling the benefits of the development of IoT services on the top of PaaS. Making applications scalable, portable, resilient, and update easily, Alexander provides customers with top-notch solutions to any of their business needs.
Skills Prerequisites:
Basic understanding of Linux
Basic understanding of working computer networks
Familiarity with Node.js platform
Training Program:
Introduction
Developing an IoT application.
Application will allow to post some data from mobile phone to cloud storage and visualize saved information in real time.
Developing Chat bot application.
Application will help to find flight based on provided information in dialog.
Developing Visual recognition application.
Application will allow to detect if driver has closed eyes.
Request a similar training on Cloud Foundry/ Bluemix/ Predix in your city or in your company by filling in the form below: