Blockchain
Why is blockchain a game changer for enterprises?
Blockchain is being actively adopted by finance, retail, insurance, and other industries as it helps to achieve well established workflows through simplifying record / identity management, transaction processing, goods provenance / traceability, etc.
Tying in with the concept of digital transformation, the blockchain technology brings along the following improvements:
Automation.

With digitalization of manual processes, blockchain offers simplicity and reduces transaction time.

Full control

over the data exchanged and transactions made.

Transparency.

All the changes introduced to blockchain can be tracked by all the parties involved
Immutability.

Transactions can not be altered or deleted.

Disintermediation.

By excluding a third-party, blockchain allows for minimizing or eliminating the counterparty risks.

Lower costs.

Due to the removal of intermediaries and overhead costs for exchanging assets, one can save on transaction time and related fees.
Blockchain expertise at Altoros
Having extensive experience in developing enterprise-grade blockchain-based apps, Altoros provides a range of services to aid organizations in blockchain adoption.
We investigate whether blockchain in the right fit for your needs. Altoros also evaluates different blockchain offerings on the market to implement the best match for your case.
Proof of concept in 90 days
Production-grade application developed
Performance benchmark of scalability
Custom smart contracts specific to the target use case
Tips and recommendations
Exemplifying 10–30 common scenarios in your industry, where blockchain brings value, Altoros measures disruptive force and capacity of each use case to turn it into a new revenue source.
Focusing on real-life scenarios across the industry of interest, we aim at helping you to better understand the concept behind blockchain and mechanisms that make it work.
View more Training >>
For developers using Hyperledger Fabric
Exploring the concepts and use cases of permissioned blockchains.
Getting familiar with architecture of Fabric 1.0, setting up a network, and running smart contracts.
Building a fully featured blockchain application for bond issuance
Designing a smart contract in Golang with client code in JavaScript
For DevOps using Hyperledger Fabric
Learning how to compare approaches of the Hyperledger deployments verification and upgrades. Understanding and employing different ways of monitoring cluster performance.
Altoros will help you to find a new revenue model via comparing blockchain use cases across seven key criteria, as well as identifying if the blockchain technology is what you really need.
Technology stack


Recognition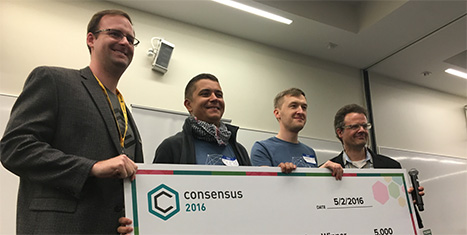 Being a member of the Hyperledger Foundation since 2015, Altoros is a Trusted Hyperledger Vendor.
The team of Altoros won three prizes—including the grand one—at the Consensus Hackathon 2016 with a blockchain-based energy project.
Contact us to request your free 1-hour consultation with one of Altoros' digital business transformation experts.

Elena Travkina
Blockchain Coordinator

elena.tr@altoros.com

+1(650)265-2266
Headquarters

830 Stewart Dr., Suite 119 Sunnyvale, CA 94085