Partners
Altoros partners with top IT industry leaders to provide the highest level of technical expertise, to access best practices, and to find the most appropriate solutions for our customers.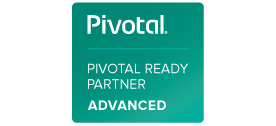 Altoros is a close partner of Pivotal, the company behind Cloud Foundry, which has become an industry standard for open source Platform as a Service. With Pivotal CF (the leading commercial distribution of Cloud Foundry), Pivotal is transforming the way the world builds software. Our engineers have paired with key members of the Cloud Foundry team working on the platform, as well as with Pivotal teams helping enterprises to innovate and go through digital transformation with Pivotal's cloud-native platform.

Altoros partners with Amazon to leverage the value that Amazon Web Services bring to cloud development. As an implementation partner, Altoros has gained profound expertise in utilizing the AWS platform and solving a variety of technical issues. We help our customers build enterprise-grade solutions hosted on Amazon's infrastructure and benefit from the scalability, reliability, and cost-effectiveness that AWS-based applications provide.

Being a Microsoft Certified Partner, Altoros gets access to professional consulting, training, implementation, maintenance, and support directly from the industry leader. The team of Microsoft Certified Professionals at Altoros has a proven ability to deliver top quality .NET applications by satisfying Microsoft's standards in software development. Our customers benefit from the latest versions of Microsoft software, service packs, and testing solutions-utilizing cutting-edge technologies.

Thanks to the partnership with Cloudera, an established vendor of Hadoop-based software and services, Altoros can utilize enterprise-level technologies and tools for big data storage and processing. Today, Cloudera manages tens of thousands of Hadoop nodes and is one of the top contributors of code to the Hadoop ecosystem.

Founded by the core Hadoop committers from the Yahoo! Hadoop engineering team, Hortonworks is the developer of an enterprise-level data platform. Partnership between Altoros and Hortonworks helps our customers to build tightly integrated and easy-to-deploy big data environments. Expertise in these tools allows for delivering systems that can store, process, and manage data in virtually any format and at any scale.
Contact us to learn how our partners' expertise can help you accelerate your software product development
Customers Speak
"

We highly recommend Altoros to rapidly build complex applications using cutting edge technologies. Again, great job!

"

Christopher Adorna, Sony