Hadoop Distributions: Cloudera vs. Hortonworks vs. MapR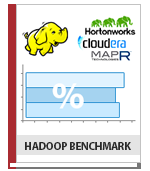 Thank you for requesting the white paper, "Hadoop Distributions: Evaluating Cloudera, Hortonworks, and MapR in Micro-benchmarks and Real-world Applications" (1 MB). This 65-page research contains 7 tables and 83 diagrams that compare the main features of the major Hadoop distributions and demonstrate performance results for 4-, 8-, 12-, and 16-node clusters—measured under 7 types of workloads.
Key take-aways:
Discover how cluster size affects the speed of data processing
Learn how clusters of different size behave under CPU and disk-bound workloads, such as Bayes, DFSIO, Hive aggregation, PageRank, Sort, TeraSort, and WordCount
View 83 diagrams that illustrate the overall cluster performance and performance per node in each of the seven scenarios
Find 5 tables that demonstrate how the amount of data changes during the MapReduce process
Discover the limitations that may slow down a cluster and learn how to avoid them
Please fill out the following form so that the white paper can be sent to you via e-mail.
Why Altoros
Customers Speak
"

We highly recommend Altoros to rapidly build complex applications using cutting edge technologies. Again, great job!

"

Christopher Adorna, Sony